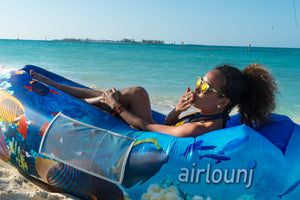 Reef
An exclusive Airlounj design, this beautiful Airlounj image takes you to a magnificent reef just off the coast of Saint Somewhere.... no matter where you. The design's alluring deep blue is contrasted by the brilliant colors of the fish and coral. If you love the beach or just enjoy things that make you think of it, our Reef Airlounj is for you. It offers the same luxurious comfort as the rest of the Airlounj collection in a slightly shorter (about 6 inches) version.
Airlounj - The Best Inflatable Lounger in the Market
Airlounj is designed for ultimate relaxation and enjoyment just about anywhere, indoors and out, in all your favorite places. Airlounj is your go to place to chill, relax, enjoy the park, share the best concert location and so many more options. Our latest model includes a wonderful pillow/head rest, enhancing the already awesome Airlounj experience even further.
With a capacity of 500 pounds (230 kilograms), Airlounj comfortably accommodates 1 to 3 adults... and even more kids! Everyone can enjoy the convenience and comfort of Airlounj!
Without need for pumps or other accessories and requiring less than a minute to inflate, our easy inflation technique far surpasses others suggested instructions. A few scoops of air, rolling the open ends and a click of the sealing buckle provide the user with Airlounj comfort. No running around or waiting for that gust of wind necessary! We promise.
Airlounj color/pattern options include a multitude of beautiful new colors and designs. Our premium designs include the breathtaking Reef and a fun Tie-Dye design. Additionally, there are over 15 other patterns and colors to choose from. We have the Airlounj to suit your personality and favorite colors.
Better than similar products, Airlounj uses a high thread count rip-stop nylon for added durability in its outer liner and a heavy polyethylene for the inner chamber. These important factors and our exclusive pillow design, combined with exceptional quality and the best levels of customer service, provide Airlounj customers with peace of mind knowing they are purchasing the best portable inflatable lounge chair on the market.
We look forward to welcoming you to the Airlounj community and a sincere thanks for considering Airlounj!
Specifications
Dimensions:

In Carry Bag: 14" x 7" x 5" (35cm x 17cm x 13cm)
Inflated: 78"L x 36"W x 32"H (200cm x 90cm x 80cm)

Weight:

2.5 pounds (1.13 kgs)

Capacity:

500 pounds (230 kgs)

Materials:

210 Rip Stop Nylon (Outer Bag) Polyethylene (Inner Bag)